Savoring Austin's Barbecue Legacy: A Drive Worth Taking in Your Texas Auto Center Ride
Austin's rich tapestry of flavors is best epitomized by its barbecue – a culinary tradition that sings tales of time, smoke, and passion. While we've previously shared some of our favorite BBQ spots in town, the list was far from exhaustive. There's a multitude of joints ready to tantalize your taste buds, and there's no better way to explore them than in a reliable used car from Texas Auto Center. As you embark on this BBQ journey, let your senses dive deep into the essence of Texas. Today, we delve into three more iconic establishments that have carved a niche in Austin's barbecue lore.
Stubb's BBQ: Where Music Meets Meat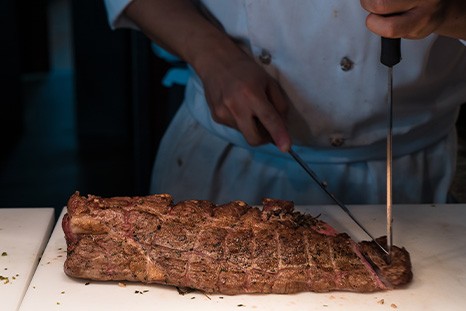 Located at 801 Red River, the legend of Stubb's BBQ is as rich as its flavors. It's not just about the succulent meats; it's also about the history, the music, and the culture. Born in Navasota, Texas, Christopher B. Stubblefield, fondly known as "Stubb," began his journey in Lubbock in 1968. His BBQ soon became the stuff of legends, with icons like Willie Nelson, Johnny Cash, and Stevie Ray Vaughn serenading diners with their tunes.
If you're driving down Red River Street in your Texas Auto Center car, do stop by for some "Spicy Pollitos" or the classic Angus Beef Brisket. As you savor the flavors, imagine the echoes of blues greats like Muddy Waters and John Lee Hooker, who once graced the establishment.
Franklin Barbecue: The Brisket Beacon on E. 11th
When someone mentions Austin and BBQ in the same breath, it's hard not to think of Franklin Barbecue at 900 E. 11th. What began as a small trailer on the Austin roadside by Aaron Franklin and his wife Stacy has now evolved into a global phenomenon. With accolades from Jimmy Kimmel to President Obama, the brisket here is a revelation. As you maneuver your vehicle through E. 11th, the aroma of smoked meats will guide you to this legendary spot. Pro tip: try the Beef Rib on weekends.
Terry Black's Barbecue: A Lockhart Legacy in Austin
Head over to 1003 Barton Springs Rd, and you'll find Terry Black's Barbecue – a tribute to Texas BBQ heritage. Born in the BBQ capital of Texas, Lockhart, Terry Black passed his profound knowledge to his twin sons, Michael and Mark. If you're in the mood for some Jalapeno Cheese Sausage or a classic Sliced Brisket Sandwich, make sure to navigate your way to Terry Black's. And don't forget to try their creamy Mac and Cheese.
In Closing: Drive the Flavorful Roads of Austin with Texas Auto Center
At Texas Auto Center, we believe in offering you not just cars, trucks, and SUVs, but also a passport to explore the vibrant communities of Austin and San Marcos, TX. These barbecue joints are just a fragment of the vast culinary universe waiting to be explored in the heart of Texas. As you navigate through the local roads, landmarks, and delicious destinations, remember our commitment to quality, affordability, and our undying motto – "A Better Place to Buy a Car!" Safe travels and happy feasting!