Favorite BBQ Near Texas Auto Center
Austin loves its BBQ and everyone has their favorites. Texas Auto Center is no exception. We love to pop out for some hot brisket for lunch or after a long day. There's no shortage of great places to get great-tasting smoked meats in Austin, these are a few of our favorites that are just a short drive away from our Central Texas used car dealerships. Get a fresh ride from Texas Auto Center and celebrate with some great BBQ!
Moreno Barbecue
In Austin, Moreno Barbecue is just a few minutes away from our S I-35 location, and a popular destination for staff and customers alike. The 44 Farms Brisket is tender and juicy and it's hard to beat the Duroc Pork Belly. Get there on Thursday or Friday Burger Nights to get the Smash Burger, a half-pound of ground brisket patties, onions, and choice of cheese smashed on the grill.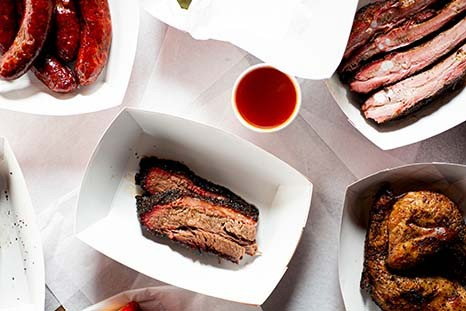 Valentina's Tex Mex BBQ
Valentina's Tex Mex BBQ is just what it says, a great combination of flavors, smokey Texas BBQ, and TexMex specialties. That means if you're in the mood for some melt-in-your-mouth brisket direct or in a smoked brisket taco, Valentina's got your back. The Tex Mex take on the standard BBQ fare is a great way to fill up at lunch. Visit in the AM for some great breakfast tacos.
San Marcos BBQ
A great place to grab lunch or celebrate a new ride from our San Marcos used car dealership, San Marcos BBQ has some great tasting barbeque. The friendly, family atmosphere only makes the quality cuts of meat taste better. The menu has some TexMex options and some great sandwiches like The Buddy, a yummy brisket and sausage combo.
Black's Barbecue San Marcos
Like Texas Auto Center, Black's Barbecue covers Austin and San Marcos. The San Marcos location serves up great food seven days a week. There's nothing fancy about the menu, just great-tasting meats that are some of the best you'll try in San Marcos. The brisket is excellent, but you really can't go wrong with anything on this menu.
What's your favorite barbecue in Austin or San Marcos? Tell us on Facebook. Texas Auto Center has multiple Buy Here Pay Here dealership locations serving Austin, San Marcos, Round Rock, Buda, Kyle, Georgetown, Pflugerville, Dripping Springs, Manor, and Cedar Park. Shop our huge inventory online, and even apply for our easy-approval financing!