How to Change a Tire
At Texas Auto Center, we want all of our customers to stay safe on the road, and that starts with proper vehicle maintenance. One of the most important components of your vehicle to monitor and maintain are the tires. Properly inflated tires with good tread will increase your traction for shorter stopping distance and better maneuverability, while also increasing your fuel efficiency. If you need new tires or are looking for other maintenance tips, come see the experts in our service department! All that said, accidents do happen, however well-maintained your tires are. If you find yourself with a flat tire it is important to know how to properly change it. We've put together a step-by-step guide so you can learn the proper way to change your tire and stay safe!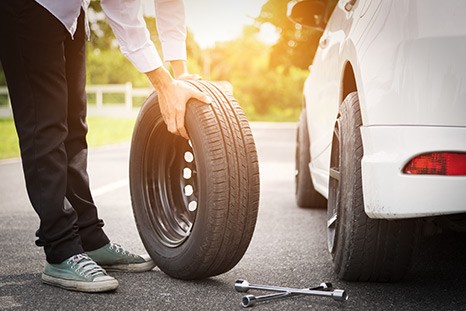 Step 1: Find a Safe Place to Pull Over
It can take a while to change a tire, so you need to find a safe spot to do it. If you are able, we recommend finding a parking lot or other safe place away from traffic to perform the change.
Step 2: Gather the Supplies
Gathering all of the supplies and materials you'll need at the beginning can make the process much smoother. At a minimum, you will need a jack, a wrench, and your spare tire. A tire pressure gauge, a mat for kneeling, and your owner's manual can also be helpful but are not necessary. Depending on the vehicle you drive, your spare tire will either be under the floor of your trunk, secured under the rear of your vehicle, or attached to the back of your trunk gate.
Step 3: Pre-Loosen Your Lug Nuts
It is always a good idea to loosen your lug nuts before raising your vehicle on the jack, as they could be quite tight and loosening them may jostle your vehicle, which is not something you want to do once it is in the air. Using your wrench, turn them counterclockwise until they are removable by hand, but do not take them off completely.
Step 4: Jack Up Your Vehicle
Now it's time to use your jack to lift the vehicle. Start by finding your contact point. This varies by vehicle and jack, but a good rule of thumb is to attach it to the frame and never to plastic pieces. Many vehicles have built-in jack contact plates, so consult your owner's manual if you are unsure where to place yours. Be sure to clear away any debris from under your jack and place it on solid ground so that it will not move once your vehicle is lifted. Once you have it placed securely under your vehicle, simply turn or crank the jack until the tire fully clears the ground. Keep an eye on the jack to make sure it does not shift while you are lifting and that is stays perpendicular to the ground.
Step 5: Remove the Lug Nuts and the Tire
Once fully lifted, remove the lug nuts and store them in a secure place. Then, grab the tire and pull directly towards your chest and off the lug nut posts. Set it aside, being careful not to let it roll away.
Step 6: Install the Spare Tire
Lift your spare tire and line it up with the lug nut posts, then gently place it on the wheelbase. Grab your lug nuts and begin tightening them by hand. Once they are all on, use your wrench to tighten them incrementally in an alternating pattern until they are all fully tightened. The goal is to spread the tightening evenly across the tire so that it goes on perfectly straight. Be sure to perform this carefully, as the lug nuts are what keep the tire attached securely to your vehicle.
Step 7: Lower Your Vehicle
Lower your vehicle back to the ground and then remove the jack. Give your lug nuts one last tightening to make sure they are fully secure and cannot be tightened any further. Once that is done, simply collect your supplies and be on your way!
Now that the tire is changed, we recommend you go straight to a reputable tire shop to purchase a replacement or repair your current flat. Spare tires are usually meant to be short-term fixes and should be swapped out ASAP. Also, if you are not comfortable performing the change yourself or are in an unsafe environment, call roadside assistance. It is much better to spend a little money or be a bit late to your destination than to continue driving with a flat or improperly installed tire.
If you're in need of tire maintenance or other advice, come see us at Texas Auto Center! We have two Buy Here Pay Here dealership locations serving Austin, San Marcos, Round Rock, Buda, Kyle, Georgetown, Pflugerville, Dripping Springs, Manor, and Cedar Park. Shop our huge inventory online, and even apply for our easy-approval financing! We'll see you at Texas Auto Center, A Better Place to Buy a Car!