Hit the Road with Your Dog!
There's nothing better than hitting the open road and heading out on an adventure with your favorite pup! Traveling with dogs can be a great time, but there are a few things to consider to ensure your furry friend stays safe and comfortable. We love dogs at Texas Auto Center, so we've put together a few tips for traveling with a canine co-pilot!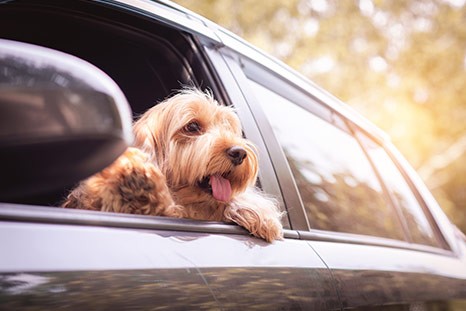 As is the case any time you are behind the wheel of a vehicle, safety should be your first priority. We recommend you don't allow your dog to ride in the passenger seat, tempting as it may be to hit the road with your pup by your side. Not only can they be distracting while driving, it's not a safe place for your dog to be. Airbags were designed with people in mind and can be dangerous for your dog in the event of a collision.
We also don't recommend allowing your dog to ride in the bed of a pickup truck. Not only can they jump out, but this is a very unsafe place for them to be in an accident. If they have to ride in the bed, be sure to store them in a properly secured dog crate. The safest way to transport your pooch is inside the cabin in a secured dog crate. The backseat is another good option, and can be made even safer with a seatbelt attachment that will keep your dog safe and secure. If you'd like to keep them in the back of an SUV, consider getting an adjustable wire fence to keep them from climbing over the back row.
Your dog's safety is very important but it's also important to keep your dog calm and comfortable in the car. Be sure to pack water for your dog if your destination is more than a couple hours away. Stop more often than you might normally on long trips to give them plenty of chances to potty and stretch their legs. Some dogs get nervous in the car, so bringing their favorite dog bed or chew toy is a great way to help them feel comfortable. If your dog has trouble getting in and out of your vehicle, you might want to look into getting them a car ramp, especially if they are large and difficult to pick up.
Let's talk cleaning. The best way to keep your vehicle clean is by transporting your dog in a crate, but there are a few other things you can do to dramatically cut down on messiness. A seat cover is a great option to reduce the amount of fur, dirt, and drool that gets on your seats. They even make hammock-style covers that can prevent your dog from climbing into the front seat, which is a win-win! All-weather mats are a great investment as well. After a day of fun, our dogs are often wet or muddy, and with all season mats all you have to do is pull them out and hose them off. No more muddy floors! Tired of drool and slobber on the windows? Just cover them in a bit of plastic wrap. The dogs can get nose prints, paw prints, and drool all over your windows and all you have to do is remove the wrap and throw it away! No muss, no fuss, just fun with your dog!
Where do you like to go with your dog? Let us know on Facebook, and be sure to post pics of you with your pup! If you're looking for a great dog-ready ride, come see us at Texas Auto Center! We have two Buy Here Pay Here dealership locations serving Austin, San Marcos, Round Rock, Buda, Kyle, Georgetown, Pflugerville, Dripping Springs, Manor, and Cedar Park. Shop our huge inventory online, and even apply for our easy-approval financing!
We'll see you at Texas Auto Center, A Better Place to Buy a Car!