Great Concert Venues of Austin
Austin's official motto is "Live Music Capital of the World." and at Texas Auto Center, we couldn't agree more. Music and Austin are inseparable as live music is the lifeblood of the city. Since concerts, intimate or large, are a daily occurrence within city limits, it's no wonder that Austin boasts some of the best venues west of Carnegie Hall. Texas Auto Center wants to share just a few of our favorites with you!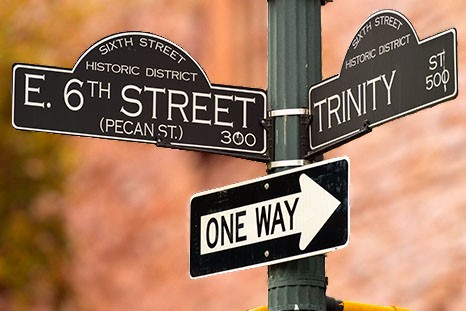 For many in Austin, everything entertainment begins and ends with or on Sixth Street, the city's famous concentration of local venues. It's Austin's hub of nightlife and live music, mostly in moderately sized establishments.
On the UT campus, Cactus Cafe is one of the original well-kept insider secrets of Austin's music scene. The venue has a strict quiet policy, so go there to listen but not to overly socialize. Iconic artists such as Lyle Lovett, Lucinda Williams, and Ani DiFranco played the spot before they broke through. It is Austin's answer to Nashville's Bluebird Café, showcasing top local, regional, and national acoustic acts.
Hole in the Wall is a legendary storefront joint – it opened in 1974 – with some of the most graffitied bathrooms in the city. The bar's main attraction is its small stage, an oasis for fledgling indie singer-songwriters and well-established touring acts. Many of Austin's own top acts play the venue. Even during the week, Hole in the Wall is a treasured local hot spot where music lovers come to listen and relax.
The White Horse is a beloved dive bar in a city that loves its dive bars. Open seven nights a week, the stage acts are mostly bluegrass, country-western, and Americana. There is always much boot scooting (dancing!) and good clean raucous fun when locals and visitors gather to support a favorite band. But there's more, patrons can take a Texas two-step lesson, play pool or a piano, relax on the dog-friendly patio, taco truck included!
In South Austin, The Far Out Lounge & Stage is one of the city's largest outdoor music venues, that yet cultivates a lively backyard party feel every night of the week with a big sound and a relaxed spacious, and shaded back for all ages. It, too, is pet-friendly and has food trucks (do you sense a theme?)
Austin City Limits at the Moody Theater is a premier attraction for diverse, world-class performers. The venue is a state-of-the-art live music and performance center that serves as the home of Austin City Limits, the longest-running music series in U.S. TV history. It is an official SXSW venue, set in downtown Austin.
This list just scratches the surface of the Austin music scene. Tell us on Facebook how your list of the best concert venues compares to ours. Before you go to your next show, visit us at Texas Auto Center so you can drive there in comfort and with confidence! We have multiple Buy Here Pay Here dealership locations serving Austin, San Marcos, Round Rock, Buda, Kyle, Georgetown, Pflugerville, Dripping Springs, Manor, and Cedar Park. Shop our huge inventory online, and even apply for our easy-approval financing!
We'll see you at Texas Auto Center, A Better Place to Buy a Car!