Discover the Best Scenic Drives Around Austin, TX in Your Texas Auto Center Vehicle
Austin, Texas, is not only the state's capital but also a vibrant city that blends urban life with Texas charm. Known for its bustling music scene, rich history, and lush green spaces, Austin is also surrounded by some of the most stunning landscapes in the Lone Star State. And what better way to explore these scenic views than from the comfort of a reliable and stylish vehicle from Texas Auto Center?
1. Capital of Texas Highway (Loop 360)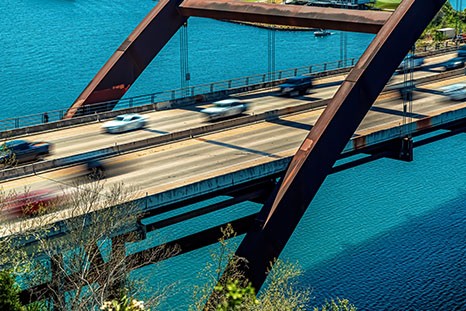 The Capital of Texas Highway, also known as Loop 360, is a picturesque route that offers a panoramic view of Austin's cityscape and the breathtaking Hill Country. Along this drive, you'll pass by famous landmarks like the Pennybacker Bridge, a stunning iron arched structure that soars over the Colorado River. In the fall, the trees along the highway burst into vibrant hues of orange and red, making this route even more spectacular.
2. Hill Country Flyer
If you love historic towns and majestic views of Texas Hill Country, then the Hill Country Flyer route is for you. The drive starts in Cedar Park, just north of Austin, and winds through the enchanting countryside, stopping by the historic towns of Burnet and Kingsland. Enjoy the rich green scenery and, if you're in a spacious SUV from Texas Auto Center, pack a picnic to savor by the water at Inks Lake State Park.
3. Willow City Loop
Considered one of the best wildflower drives in Texas, Willow City Loop takes you through an unforgettable tapestry of bluebonnets, Indian paintbrushes, and sunflowers. Located near Fredericksburg, about a two-hour drive from Austin, the 13-mile loop is particularly vibrant from March to April, during peak wildflower season. Driving this route in a comfortable, fuel-efficient vehicle like those available at Texas Auto Center allows you to enjoy the journey as much as the destination.
4. Devil's Backbone
For those who love a bit of folklore and natural beauty, Devil's Backbone offers both. This elevated limestone ridge offers spectacular views of the unspoiled Hill Country. Located along RR 32 between Wimberley and Blanco, the route is steeped in local lore, making it an exciting and mysterious journey. The route's twists and turns are a breeze in a responsive car from our wide selection at Texas Auto Center.
5. Mount Bonnell Drive
For the best view of Austin's skyline and the Colorado River, head to Mount Bonnell. Drive along the tranquil Lake Austin Boulevard and make your way up to Covert Park. Here, you can park and climb the short trail to reach the highest point in Austin. This is a great spot to watch the sunset in your loved one's company, while enjoying the peace of mind that comes with driving a vehicle backed by Texas Auto Center's Limited Warranty.
Remember, at Texas Auto Center, we not only provide you with easy finance options but also work tirelessly to offer an incredible customer service experience. Whether you're after a stylish sedan for city driving, a reliable SUV for family road trips, or a rugged truck for off-road adventures, we've got you covered. Visit one of our locations in Austin or San Marcos and find the perfect ride to discover the best scenic drives around Austin, TX.