Best Drive-Thrus Near Texas Auto Center
At Texas Auto Center, we're proud to be a part of both the Austin and San Marcos communities. There's nothing we love more than supporting local businesses, especially when it comes to food! If you're looking for some local drive-thrus to hit up after you get a great deal on one of our high-quality pre-owned vehicles, just check out our list of favorites near our stores!
Buddy's Burger – North Austin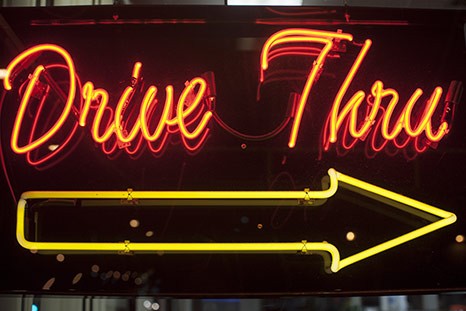 About 10 minutes east of our 183 location you'll find Buddy's Burger, a no-frills burger joint that is big on quality and big on flavor. They only offer four different burgers, but that's all you need when they are made this good. Cooked to order with 100% Never Frozen Angus Beef, these are old-school burgers done right. Pair these with some seasoned fries and a mango lemonade for a real treat.
Fresa's Chicken Al Carbon – Central Austin
Speaking of treats, that's exactly what you're in for at this Austin original. Fresa's specializes in tacos al carbon, which are cooked over charcoal for an intoxicating smoky flavor. Our favorite is definitely the La Fresa, their signature taco with pulled achiote chicken. Be sure to grab yourself an order of Mexican street corn and chips and guacamole for the full Fresa's experience. Their location at 9th and Lamar has a drive-thru is only about 15 or 20 minutes north of our I-35 location.
Earth Burger – San Marcos
Looking for a no-guilt burger that is low on calories but big on flavor? Earth Burger and San Marcos is your destination! This Texas original has three locations and offers no-meat twists on fast-food classics. The Ranchero burger with fried onions and BBQ ranch is particularly great. They also offer several unique and healthy side dishes, like edamame, apple slices, and kale salad with sunflower seeds and carrots. Of course, you can always load up on their crispy French fries with your burger. Earth Burger is just a short drive north from our San Marcos location, so it's perfect for celebrating after getting a great deal on your new ride!
What's your favorite drive-thru? Let us know on Facebook, and come see us at Texas Auto Center! We have two Buy Here Pay Here dealership locations serving Austin, San Marcos, Round Rock, Buda, Kyle, Georgetown, Pflugerville, Dripping Springs, Manor, and Cedar Park. Shop our huge inventory online, and even apply for our easy-approval financing!
We'll see you at Texas Auto Center, A Better Place to Buy a Car!