Beat the Heat: Top Swimming Spots to Visit Around Austin, TX
Summer is in full swing, and we all know how scorching it can get in Austin, TX. With your reliable and affordable used car from Texas Auto Center, explore some of the best swimming spots around Austin to keep cool and have a blast this season. From natural springs to pools and creeks, our city has something for everyone.
Favorite Swimming Spots Around Austin, TX
Barton Springs Pool: Iconic and Refreshing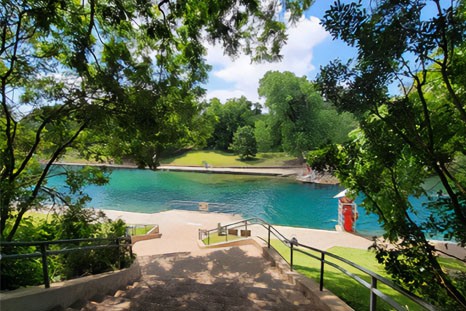 Nestled within Zilker Park, Barton Springs Pool is a natural spring-fed pool with a consistent temperature of 68 degrees. Open daily from 5 a.m. to 10 p.m. (except Thursdays), it offers swimming, sunbathing, picnics, and more. Admission fees depend on age and residency.
Krause Springs: A Scenic Getaway
About 30 miles west of Austin in Spicewood, Krause Springs is a private swimming and camping site with 32 natural springs and multiple pools. Enjoy the clear, cold water, cypress tree shade, or explore the butterfly gardens. Open daily from 9 a.m. to 9 p.m., admission is $8 for adults and $5 for children.
Deep Eddy Pool: A Historic Experience
As Texas' oldest pool, Deep Eddy Pool offers spring-fed swimming near Lady Bird Lake, with temperatures ranging from 65 to 75 degrees. With a lap pool and wading pool, it's open daily from 8 a.m. to 8 p.m. (except Tuesdays), and admission fees vary.
Blue Hole: Natural Beauty in Wimberley
Located 45 minutes south of Austin in Wimberley, Blue Hole offers clear blue water surrounded by cypress trees. Swim, tube, or enjoy rope swings while visiting. Open daily from 10 a.m. to 6 p.m., online reservations are required, and admission fees are $12 for adults and $8 for children.
Stay Cool This Summer with Texas Auto Center
Discover these incredible swimming spots around Austin, TX, in your used car from Texas Auto Center. We offer a wide range of quality used cars suited for any budget and lifestyle. Visit our website to browse our inventory and apply for financing. With locations in Austin and San Marcos, we're here to help you beat the heat this summer.
At Texas Auto Center, we specialize in selling used cars, trucks, and SUVs, providing auto leasing or financing options for people with bad credit, no credit, or those in need of a fresh start. Visit us today and make a splash at these amazing swimming spots around Austin, TX.