Finding a Used Pickup Truck in Austin
Have you been searching for a used pickup truck in Austin? Texas Auto Center is your destination for quality, late-model pre-owned trucks in Austin and San Marcos. Whether you're looking for something to handle towing on weekend trips or a serious work truck for big jobs, we've got a pickup that can meet your needs.
Important Factors When Choosing a Used Truck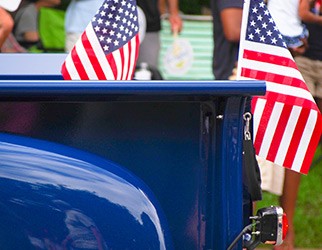 When shopping for a used truck, it's helpful to have an idea of what you'll need it to do for you. Are you looking for towing capacity, cargo space, or a balance of both? Some models of pickup may be better at one or the other. Some may strike the balance you need. Another important thing to consider is the cargo and towing capacity of the same model of truck can vary considerably based on the configuration of the cab and the box.
Generally, longer cab and box combinations will have increased towing capacity. These aren't the only factors that affect towing, which also depends heavily on engine, transmission, and two-wheel or four-wheel drive setups, as well as any towing packages that might be included.
Cargo capacity shares many of these determining factors along with others that will affect how you'll utilize that capacity. Many popular truck models come with multiple box sizes, with ever-increasing storage capacity. Likewise, features like the shape of the rear gate and any additional cargo packages can be important considerations.
Finally, there's the question of the engine. Most late-model trucks can come with a variety of powertrain options, so choosing one with the power you require is important. Some may want to look for options that value fuel economy, which reduces your long term fuel costs. Diesel based engines can offer a solution that is both powerful and economical.
Used Trucks for Sale at Texas Auto Center
The inventory of used pickup trucks at our Austin area dealerships changes regularly, so always be sure to visit our website for the latest availability. We usually have some very popular makes in stock.
Used Ford trucks are a popular choice among truck buyers. The F-150 is an iconic American truck that's been a bestseller for years. It comes in many different configurations, and one of them may be the right fit for your cargo or towing needs.
Used Ram trucks are equally popular and a great value. In recent model years, Rams have won awards from prestigious organizations like Motor Trend. A used Ram 1500 is a powerful, reliable option for the commute around Austin or professional work. Like Ford, Ram trucks are also available in a wide variety of cab, box, and powertrain setups.
Other options may include used Chevy or used GMC trucks for domestic truck shoppers. If a foreign make is what you're looking for, consider a used Toyota truck like the Tundra or used Nissan truck such as the Titan.
Visit one of our many Texas Auto Center locations today to talk with one of our experts about the kind of truck you're looking for and schedule a test drive. Don't forget to check out our selection of used cars and used SUVs if a pickup truck isn't the perfect fit. Texas Auto Center is a better place to buy a car, and a truck!